Stone Geng – Sommelier at L'atelier de Joel Robuchon, Shanghai
23/11/2020
Geng talks about wine trends during the festive season in China, Chinese consumers' approach while buying wine and much more.
Stone Geng, as a sommelier, is responsible to develop and manage the wine list of L'atelier. Apart from it, he also has to conduct staff training to ensure the highest standards of services. At L'atelier, he assists the customers with their wine choices, and develop new ideas to generate more revenue by increasing the quality of the service in the restaurant. In a recent interview with the China Wine Competition team, Geng talked about wine trends during the festive season, Chinese consumers' approach while buying wine, wine by the glass program and much more.
Which wines are more in demand during this festive season and which is your favourite wine?
On special occasions, champagne is the best seller in our restaurant, you know Champagne is a symbol of romance and beauty, it is a celebration of victory or festival time with the wine. It has the luxury, temptation and romantic colour, but also the great wine to do aperitif and with the food!
I really like the grower champagne (Pierre Peters Cuvée Speciale "Les Chétillons" Blanc de Blancs 2008), Les Chétillons is a single vineyard as "one of the most beautiful pieces of land of Champagne." a place found in the Grand Cru village of Le Mesnil Sur Oger. Vintage 2008 is an amazing vintage in Champagne, "Blanc de Blancs" vintages are finesse, minerality, purity, lightness, directness, freshness and elegance. you won't forget if you enjoy it!
What are the consumer habits/consumer buying trends for wine in China?
The drinks of guest prefer wine from Bordeaux and Burgundy of the French, A lots of Japanese restaurants are open, Sake also getting better in Shanghai!
Do you have Wine by the Glass Program at your restaurant, if yes, what?
We have been selling fine wine by the glass at last year:
Krug Grande Cuvée NV
Egly-Ouriet Blanc de Noirs Vieilles Vignes Grand Cru NV
Pessac-Léognan, Le Clarence de Haut-Brion, Bordeaux 2013
Pommard 1er Cru Clos des Epeneaux, Comte Armand, Bourgogne 2009
This program not only increases the income of the restaurant but also gives a wonderful experience for the guests!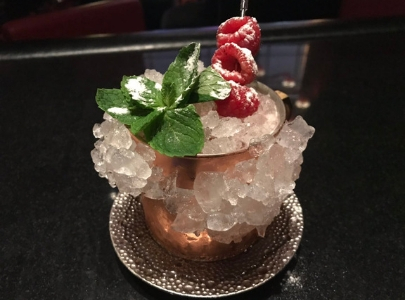 How do you focus on your on-premise wine sale?
It depends on the guest, general we ask aperitif or champagne first for the guest and then the wine with food!
How frequently do you change your wine programs / how do you keep it updated? What factors affect your program?
The wine programs change almost every month. We chose some new item in our wine list, we have about 800 kinds of wine right now in our wine cellar. Special Champagne, Bordeaux and Burgundy. Main factor effect is the Supplier some wine out of stock and the restaurant promotion, some fine wine we will be adding if the supplier has it!
Is sustainability important in the wine industry? Is China coming up with sustainable wines? Can you name a few sustainable wines?
I think it's very important in the wine industry. Sustainability, biodynamic, organic, natural wine will popular in drinks, some guests very interesting this wine! It's a trend in the wine industry, I believe China will soon follow this to study from New Zealand.
Top winery Zind-Humbrecht from Alsace, also my favourite.
Gilles Berlioz from Chignin-Bergeron in Savoie product pure fruit wine, Some Champagne, Special grower champagne (De Sousa, Louis Roederer… …)